HDFC Bank Customer Care Number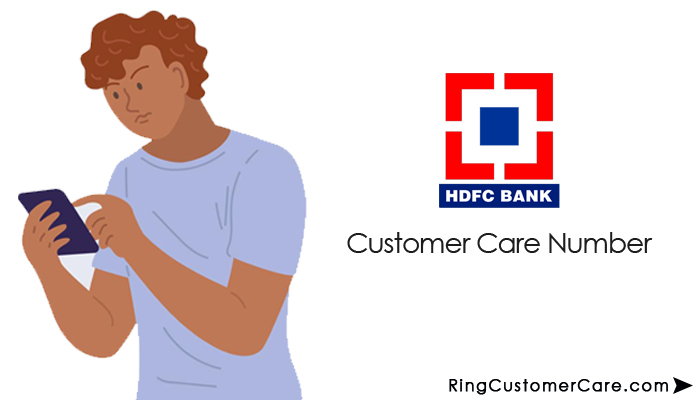 HDFC Customer Care Number: HDFC or Housing Development Finance Corporation Bank is one of India's largest private sector banks. Headquartered in Mumbai, it has more than 4000+ branches in India. Besides, it has its presence in Bahrain, Hong Kong, and Dubai. Furthermore, it provides a range of services and products to its massive customer base. The list comprises banking, home loans, personal loans, business loans, insurance, credit cards, investment, etc. Moreover, HDFC Bank offers a 24/7 customer care center that renders complete support. For any query, doubt, feedback, or problem, dial toll-free 022-6160 6161. Also, customers can seek HDFC customer care service via mobile, electronic mail, SMS, or by visiting the branch. Lastly, HDFC Bank's Mobile Banking Service is a mix of IVR and Agent Assisted calls.
HDFC Bank Customer Care Number 022-6160 6161
HDFC Customer Care Toll-Free Services:
To get the following services, DIAL:
1800-267-6161 – For Mobile Banking
022-6160 6161 – For general queries or inquiries
1800-266-4332 – For HDFC credit card/fraud transaction
1800-267-1006 – For mutual funds
+91-9289200017 – For HDFC NEW Home Loan
044 23625600, 1860 267 6161 – For HDFC Credit Card Grievance Redressal
1800-270-3333 – Give a missed call to get the account balance
1800-258-3838 – To register a complaint query
HDFC Customer Care Number (City-wise)
Ahmedabad –  079 6160 6161
Bengaluru – 080 6160 6161
Chandigarh  – 0172 6160 616
Chennai – 044 6160 6161
Cochin – 0484 6160 616
Delhi & NCR – 011 6160 6161
Hyderabad – 040 6160 6161
Indore – 0731 6160 616
Jaipur – 0141 6160 616
Kolkata – 033 6160 6161
Lucknow – 0522 6160 616
Mumbai – 022 6160 6161
Pune – 020 6160 6161
HDFC Customer Care Service Guide
Dial HDFC Customer Care Number 1800 267 6161 (toll-free)
Step 1 – Choose Language
Step 2 – Choose Service:
Dial:
1 to Report the loss of loss or damage or block ATM card or Net Banking
2 to know Bank Account Details
3 to enquire about Debit or Credit card status
4 to know about loans
5 to get information about Demat Accounts
6 to enquire about prepaid or forex cards
New HDFC Customer Care Support
Online Chatbot 'Ask Eva' is now available 24*7 to provide a smooth and hassle-free customer experience to HDFC users.
HDFC Email Support
Email your queries, problems, or issues at support@hdfcbank.com
HDFC Credit Card Customer Care Number
What is more, the users can now reach HDFC Bank Credit Card Customer Care Number. They can discuss their queries and requests easily. Besides, the customer can access account information, avail the latest statements, block credit cards if lost or stolen, and much more with the HDFC customer care portal.
HDFC Credit Card Customer Care Number is toll-free and available 24*7. Furthermore, customers can also contact the bank for Credit Card related services 24 hours on all days for Chennai, Ahmedabad, Bangalore, Delhi NCR, Hyderabad, Kolkata, Mumbai, Pune, etc.
 1800 266 4332
HDFC Head Branch Address:
New Building, 'A' Wing 2nd Floor,
26-A Narayan Properties, Chandivali Farm Road,
Off Saki Vihar Road, Chandivali,
Andheri (East), Mumbai- 400 072
Source : HDFC
Prince Singh writes everything about cinematic, dramatic, and poetic! He is a compassionate reader and blogger. Having done his Graduation in B.Sc. IT, he assures to give his life to do anything in IT.
Leave a Comment